We are happy to announce our very first public television appearance at "2 Minuten – 2 Millionen" on 5 October. In April 2020, we were approached by the production company of Puls4 and invited to apply to their show. As starring in such a renowed show can come along with great feedback and media attention, we thought to ourselves "Let's go for it"!
Getting all set
And it worked out! After being accepted, we contacted Nikola Vodicka from Traudichsprechen.at who helped us tremendously with preparing our pitch. She also showed us techniques on how to deal with nervousness during our performance. Thanks Nikola! Lea and Sonja additionally prepared a wonderful stage design, which would definitely rock.
As the date of the show was drawing near, Lea, Gabriel and I travelled to Vienna where we were interviewed several times and talked about our start-up.
On stage
Before the pitch we felt self-confident and ready to share our vision. However, as soon as we stepped into the spotlight, nervousness was creeping back in and the jury challenged us with some quite tough questions. Additionally, I must admit I totally forgot to mention that our bi-circular™ fabric currently is in a patent pending process. This is why I could not go into detail about the materials we are using – one of our major USPs. Well – in the end the whole situation got pretty emotional but I guess that's what TV shows are about.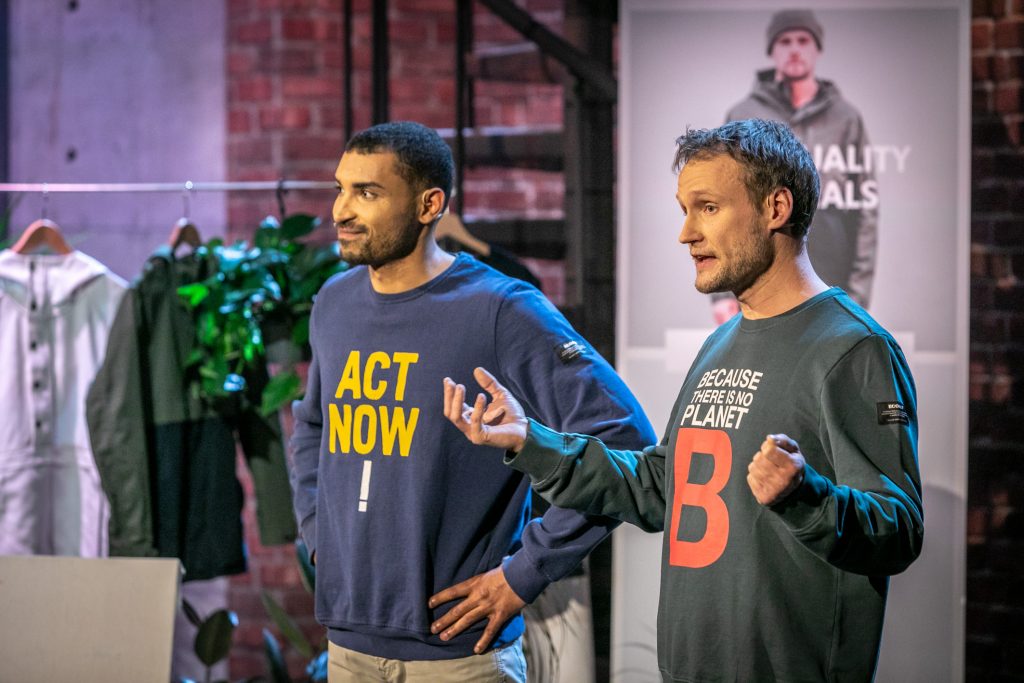 The investors from the show turned us down, but we still got many takeaways from this adventure: It was a great chance to connect with a lot of interesting people. We won an exclusive ticket for the Startup Village in Austria´s largest shopping mall. And we gained experience talking in front of a camera representing our brand FreyZein. Thus, all in all it was an enriching experience that we are grateful for. Would we do it again? Definitely. But differently!
From my perspective resilience and perseverance are two of the most important characteristics regarding successful entrepreneurship. We can proudly say that we consider them both our strength and will continue with our radically natural journey.
What happened ever since
Since our pitch at "2 Minuten – 2 Millionen" a lot was going on. One of the greatest news is that we can now officially welcome our new team member Dr. Barnaby Caven. Barnaby studied at the University of Leeds for Textile Engineering and afterwards did his post-doc at the University of Innsbruck for Textile Physics & Textile Chemics.
There is a lot going on. Earlier this year we partnered with 1% For The Planet. In March we were an official exhibitor at the Design Week Fuorisalone in Milan. Also, FreyZein will take part as semi-finalist at the "Micro Fiber Innovation Challenge". Representing our bi-circular fabrics we are joining the best teams worldwide to tackle the problem of microplastic that is created from our textiles and clothes.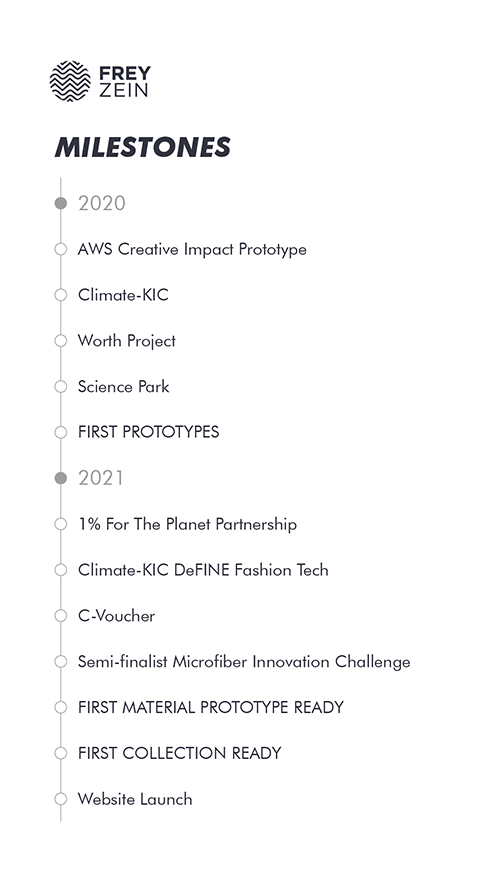 Stay tuned, there are more great news up to come soon!
Jan & the FreyZein Team
All Pictures (c) PULS 4/ Gerry Frank